What are Micro E-mini S&P 500 Futures ?
Micro E-mini S&P 500 futures offer exposure to Standard & Poor's 500 Index in a contract 1/10th the size of standard E-mini S&P 500 futures. The benchmark S&P index is comprised of 500 large-capitalization companies and is regarded as the best metric of large-cap American equities.
Launched in May of 2019 by the CME Group, Micro E-mini S&P 500 futures were introduced to offer lower barriers to entry for futures traders wishing to participate in US equity markets. This micro-sized contract mimics the full-size E-mini S&P 500 contract and the charts are nearly indistinguishable.
An impressive volume from the start
Gaining instant popularity, Micro E-mini futures volume exceeded 1 million contracts traded in less than 3 full days of trading. The chart below from the CME Group shows hourly Micro E-mini volume from their initial launch on the evening of May 5th 2019 to the morning of May 8th.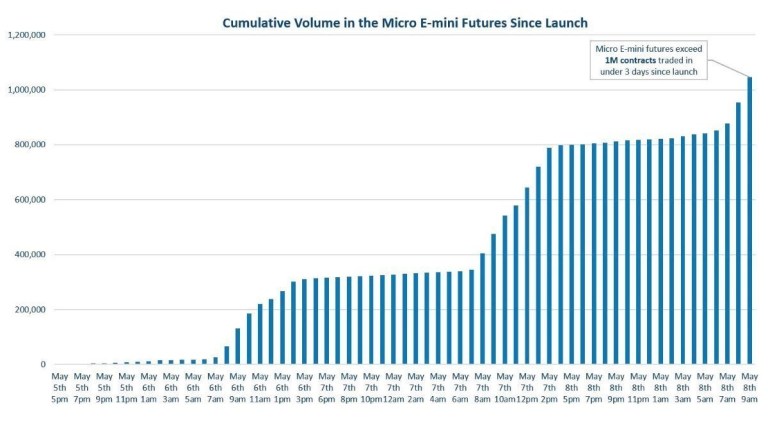 Why trade micros at AMP Global? Well ... we blow the competition away! See for yourself:
Total Commissions (All Fees Included) all 4 CME E-Micro Indices = $0.37 per contract / per side
Account minimum just $25.
Day Trade Margins
https://www.ampglobal.com/exchange_traded_futures/margins_requirements.html
Micro E-mini S&P 500 : MES = $40.00
Micro E-mini Nasdaq-100: MNQ = $50.00
Micro E-mini Dow: MYM = $50.00
Micro E-mini Russell 2000: M2K = $25.00
Current Front Month Contract(s) - June 2019
Micro E-mini S&P 500 : MESM19
Micro E-mini Nasdaq-100: MNQM19
Micro E-mini Dow: MYMM19
Micro E-mini Russell 2000: M2KM19
How to Add to MetaTrader 5 (MT5) Market Watch
Download Current Version of MetaTrader 5 (MT5)
https://downloads.ampglobal.com/metatrader-5-mt5
Contract Specifications
https://www.ampglobal.com/exchange_traded_futures/contract_specifications.html