(updated 8am - Monday - April 13, 2020)
DayTrade Margins Reduced Back to Standard for CME and EUREX Major Stock Indices
We have adjusted All Markets Day Trade Margins for
US Day Session: 8:30am - 4pm CST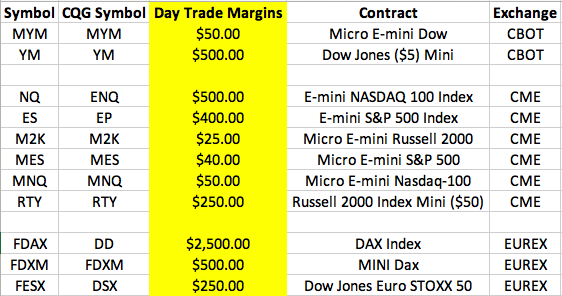 Here is the link to view DayTrade Margins for All Markets:
VERY IMPORTANT -

Your responsibility and Your Acceptance of the risk in trading during them extreme market conditions. You are solely responsible for any trading losses including if any debit balances are occurred. If markets trigger price limit market halts, no new orders are executed. If you are stuck in an Open Position, you are at the mercy of the next market open price. By YOU placing orders - you are Fully Accepting this Risk.

If you do not accept this risk, DO NOT PLACE ANY NEW TRADES.