If you walk into Milan's Piazza degli Affari, you are going to face a shocking sight: A giant marble sculpture of a veiny hand giving its beholders the middle finger. It is a sculpture from Maurizio Cattelan recently placed in a quiet square in front of the Italian Stock Market.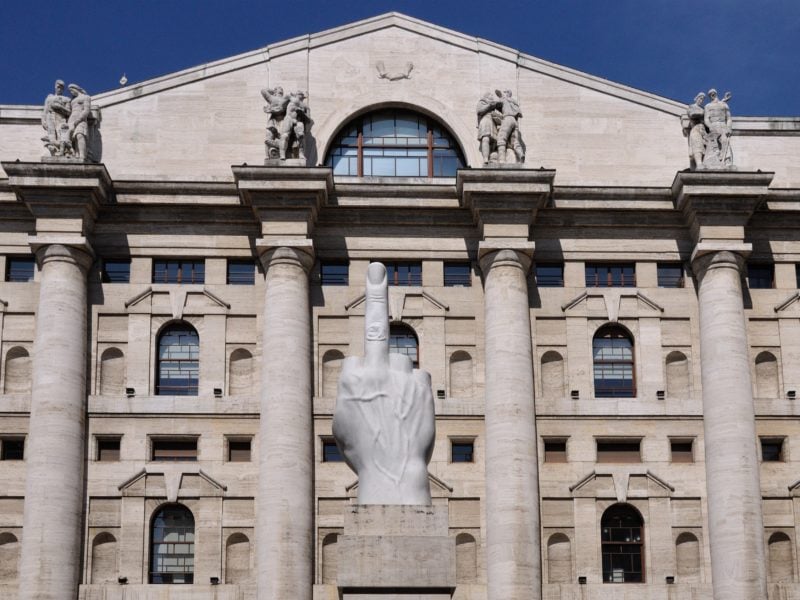 It is considered a giant "F**K YOU" to the Stock Market from the "People", whose "fingers" have been butchered by the scammers-turned-entrepreneurs who have dominated the Italian Stock market for generations. It is a fierce critique of the "Italian" way to interpret the capitalism whereby the profits are quickly secured by the "entrepreneurs", the losses are subsequently "socialised" among thousands of small investors and the regulators and politicians consistently turn the blind eye so to keep the game going. It is a very good reminder, especially for all the people working at the Stock Market (so called "entrepreneurs", investment bankers, lawyers, accountant, auditors) of the disasters that they have contributed to commit against the small investors.
Almost none of them will face the consequences of their crimes or negligence since in Italy the legislation is on purpose extremely bland against these types of crimes but they have a perpetual reminder made of marble placed there to remind them of what the Italian people think of them.
The location of this iconic sculpture is fantastic as it is placed exactly in front of the Italian Stock Exchange which has seen a multitude of Stock frauds carried out in the last 20 years without the regulators being even remotely able neither to tackle the core issues of a too-easy-to-rig stock market, nor to appropriately punish the multitude of "white-collar" professionals who actively contributed in executing them.
Maurizio Cattelan is known as the jokester of the sculpting world. He is known for his ingenious cheeky creations that are often provocative. Indeed based off of this, the BBC broadcasted a documentary about his life and work, called 'The Art World's Prankster: Maurizio Cattelan.' He was born in 1960 and his satirical works are wildly polarizing with people liking them or hating them. For example, works such as The Ninth Hour depicting the Pope John Paul II being struck by a meteor or Him showing Adolf Hitler kneeling in the former Warsaw Ghetto.
When in Milan absolutely worth your visit.